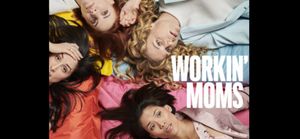 My song "Cozy" is featured in the Season 1 Finale of "Workin' Moms." The song starts around the 15-minute mark and it continues to play behind two delightfully sentimental scenes. 
Are you a fan of the song "Cozy"? You can purchase it on iTunes, Amazon, and my music page. 
"Cozy" Lyrics (written by Adrianne Serna):
I want what everybody else wants 
A cozy place to lay my tired head 
And maybe a silent understanding 
Of all the things that sometimes go unsaid 
ooh ooh ooh... 
You see what nobody else sees 
The tiny cracks in my protective shell 
If I every truly crumble 
Will you mend the pieces that you know so well? 
ooh ooh ooh.... 
I want what everybody else wants 
A cozy place to lay my head